Not a programmer? No problem. Every script function has a code builder to guide you through script creation. Benefit from syntax prompts and code completion. Use the wizards for creating code to send keys and mouse events, find objects, extract text, locate screen images and more.
Like to code? Unlike other, more expensive tools, Macro Scheduler gives you a proper code editor which actually lets you edit your code. You can still use the wizards and code builders if you want, but you can also just edit code as you would in any text editor.
Record mouse and keyboard macros, or sections of macros, with the Macro Recorder which outputs real code.

Edit code directly or use the code builders. The choice is yours.

Maintaining complex macros is easier than with tools that only provide point-and-click methods.

Some of our users say they have tried the competition only to be frustrated at not being able to edit their code when their target systems have changed.

Debugging is easy. Anyone can do it. And it is essential for building powerful macros. Execute lines one by one or set breakpoints to run blocks of code. And as you step through your routine watch the variables and results change in the 'watch list'. Set variable breakpoints so that the script stops when a variable becomes a specific value. It's all built in. Nothing to configure. Just open your script and go.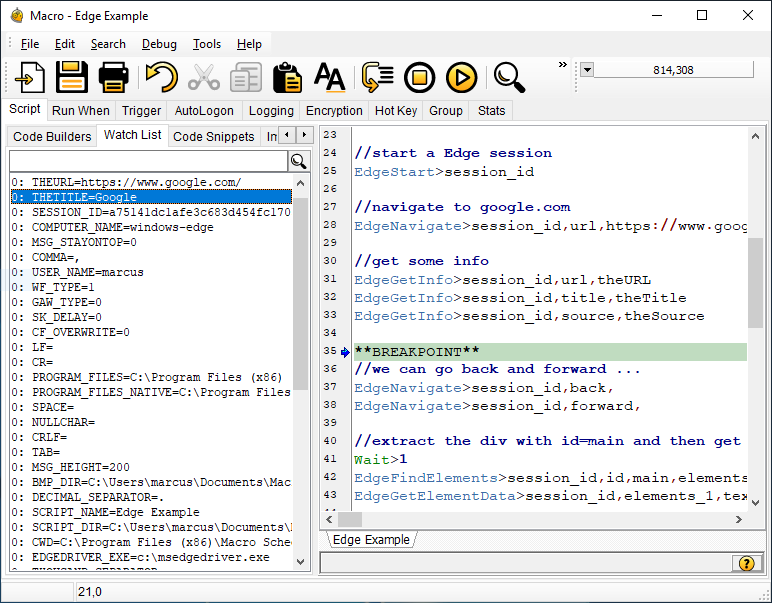 Many of our users come from having no programming background and end up creating powerful automation routines. Experienced programmers like the ability to switch on more advanced coding features. They both love the flexibility.
---
Testimonials
Our customers love Macro Scheduler. Here's what they are saying ...
A well thought out and easy to use user interface makes preparation of the scripts a very simple process.
Arthur Saltzman, President
Para Technologies
This has to be by far the best software I have ever purchased in my life. I recouped my investment within the first 10 minutes of using the software.
Bill Karas
Miami Software Development
We have just recently implemented Macro Scheduler Pro and we are very impressed. Not only does this save us hours of data entry but it's very easy to use.
Jerry Kane, IT Manager
Speciality Printing LLC
Read more testimonials and case studies ...