Free Macro Recorder
From the makers of the award winning Macro Scheduler
Record repetitive mouse and keyboard sequences
Automate repetitive tasks to save time
Senses window titles, sizes and positions
Uses the same automation engine as Macro Scheduler
Free for life.
Download for Free Now!
Get More Power »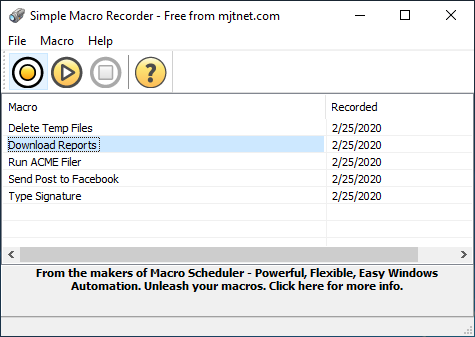 Free Macro Recorder Benefits

Record repetitive mouse and keyboard sequences
Automate repetitive tasks to save time
Senses window titles, sizes and positions
Uses the same automation engine as Macro Scheduler
Free for life.

Need More Power? Need to Edit & Debug Macros? Get Macro Scheduler

Macro Scheduler is much more than just a keyboard recorder, mouse clicker and scheduler.
A powerful automation tool for all kinds of processes.
Code builders & wizards as well as a real script editor & debugger.
Compile to EXEs (Pro version), use if-then-else logic, loops, data sources & more
Screen OCR, Screen Image Recognition, UI Object Recognition, Internet Functions, Web Automation, Custom Error Handlers, Excel Functions, Database Connectivity & more.
Video Tutorials, Articles, and Fast, Free Support.

Get All Features For Only

$18

/month » Macro Recorder - Quick and Easy Windows Automation

Simple Macro Recorder allows you to record a sequence of events to create a Windows macro. The Macro Recorder will record keystrokes, mouse events and window activations, including window positions and dimensions. This makes it easy to create a macro that can be played back to run the task automatically.

The Macro Recorder is also available in all editions of Macro Scheduler, including Macro Scheduler Lite our affordable entry level automation tool.

The Macro Recorder creates real MacroScript code that is easy to understand (and edit in Macro Scheduler). When recording a macro you can specify an application to automate so that the Macro Recorder can add the code to open the application and position it in the same place on the screen each time so that your macro will always work correctly.

When you record a macro you can specify the playback speed and mouse sensitivity. Adjusting the playback speed effectively reduces or lengthens the time between individual steps. It is usually best to leave this in real time as reducing time between events can in some instances make the macro less reliable - the system needs the thinking time between those events. Reducing mouse sensitivity means you can remove unnecessary mouse moves between mouse clicks, for example, thus shortening the script and making it easier to read and edit.

The Macro Recorder is ideally suited to less technical users, or those new to Macro Scheduler who want to learn the MacroScript language to make their macros more powerful and more reliable in changing environments. The Macro Recorder in combination with the optional script compiler in Macro Scheduler Pro allows a user to create a standalone Windows application that will run on any PC to automate repetitive tasks in just a few simple mouse clicks.

Download Macro Scheduler Trial
Testimonials
"I evaluated several macro recorders and chose Macro Scheduler because it was the most intuitive. It was also the only program which replayed my recorded test macro correctly on the first attempt."
Patrick E., Somerset
"This has to be by far the best software I have ever purchased in my life. I recouped my investment within the first 10 minutes of using the software. I'm on day 3 now and every few hours I create another free employee to work for me. Thanks MJTNet!"
Bill Karas, Miami Software Development
"Microsoft came in and said there was no way to automate a particular problem. I downloaded Macro Scheduler and had a working fix in one day!"
Ian Smith, UK
"I used to work for a company that used Macro Scheduler, and I think it's just the best thing since peanut butter met jelly. I can't tell you how many hours it saved me there, and I'm finding it will do the same at my new job."
Alan Williams, White River Health System
Full Version
Macro Recorders
Point & Click Wizards
Screen Image Recognition
UI Automation Functions
User Simulation
Human Readable Scripts
Built in Macro Editor
Debugger
Macro Scheduler
Hotkey Support
Triggers
Compile to .EXE
Custom Dialogs - Build UIs!
Screen Scraping
VBScript Support
Video Tutorials
Amazing FREE Support
---

Thousands of organizations use and trust our Macro Recorder and Windows Automation Tools since 1997