Our software has been automating Fortune 100 companies since 1997, before the term Robotic Process Automation was coined, and we're still innovating.
We help you increase efficiency and reduce costs. You can automate anything a real user can do!
Robotic Process Automation for everyone - without the high costs!

Comprehensive, reliable Windows UI automation for any software or business process.

Respond to external events, see the screen, and make decisions.

Automate web and desktop. Integrate legacy desktop apps with modern API-driven cloud-based environments.

Improve efficiency, remove repetition & reduce operating costs.

Automating Fortune 100 Companies Since 1997.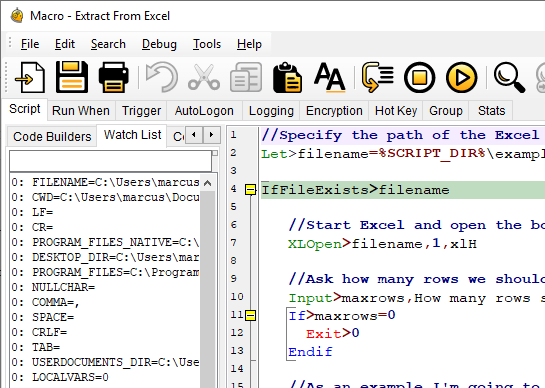 ---
Robotic Process Automation Features
Keyboard & Mouse Macro Recorder, Code Builders and Wizards - Easily Automate Windows in Minutes.

UI Automation Functions - Manipulate UI elements, windows & objects; simulate user input. Watch a demo.

Read/modify data from text, CSV, Excel files; access ODBC/ADO SQL data sources etc

Convert Robots to executable (.EXE) files for unlimited royalty free distribution on other PCs. (Pro Version)

Unique Screen Image Recognition functions for automation of ANY process. Watch a demo.

Custom Dialog Designer - Create your own user interfaces.

Internet protocol functions: HTTP, HTTPS, FTP, SMTP, POP3 plus XML/JSON Parsers.
Unique Screen Text Capture and OCR functions to retrieve/monitor screen text.

Edge, Chrome and IE automation functions - Interface between Web and Desktop.

Easy to use Macro Editor & Debugger - Step Through Macros, Inspect Variables, Get Results Fast!

Flexible Scheduler & Unique AutoLogon Technology for Unattended Operation (Automate Windows even when it's locked/logged out).

Over 300 Powerful Built-in Script Commands, Loops, Conditionals, String functions etc, Plus Microsoft VBScript & Python.

Import 3rd party ActiveX/COM components, DLLs and access the Windows API.
---
Testimonials
Our customers love our Robotic Process Automation Software. Here's what they are saying ...
I love this product! I use it to automate activities in business applications running locally on the PC or delivered via local servers, Citrix, and the internet. So far I have not come across an application I have not been able to automate. It would be difficult to measure the time this software has saved myself and others!"
John Basinger
Automation Consultant
Macro Scheduler works great for my needs, I have already purchased a license for my server! The large forum community helped me in creating macros that saved costs of automating reports instead of purchasing very expensive programs.
We have just recently implemented Macro Scheduler Pro and we are very impressed. Not only does this save us hours of data entry but it's very easy to use. The support and customer service we received was second to none.
Jerry Kane, IT Manager
Specialty Printing, LLC
Read more testimonials and case studies ...